Frequently Asked Questions
Here are some common questions about MAC Boats
How strong is Polyethylene?
Polyethylene has an impact resistance five times stronger than fiberglass. RIB tubes are quickly damaged when bumping into sharp rocks or other threatening surfaces. Not MDPE (Medium Density Polyethylene) – its visous and elastic characteristics prevent the deformation of cracks. It is quite difficult to severely damage a Mac polyethylene boat, as the inherent nature of the material is to flex on impact. Mac boats provide a low maintenance and soft riding hull.
What is the thickness of the hull?
The hull is a seamless, double-skinned design with an average hull thickness of up to 10mm for each skin.
Do Mac Boats have added flotation?
Yes, they certainly do. Every MAC hull we manufacture has a closed cell Endurathane foam pumped into the hull at strategic locations to provide added buoyancy and level flotation for your safety. By foaming our hulls at set points, Mac boats meet with CE and Australian Build standards.
Will direct sunlight affect a Mac Boat?
The plastic compound used by Mac Boats is a Marine grade medium density polyethylene (MDPE) manufactured specifically for the construction of our Mac boats. The material is UV stable and has a UV rating of 15 which is much higher than most plastics (for example, a wheelie bin which spends all its time in the sun and outdoors only has a UV rating of 2).
What trailer should I use?
You must ensure you use an approved trailer so you are covered under warranty. The use of an unapproved trailer will void our warranty on Mac Boats.
Please refer to the required specifications outlined below:
Hull must be supported solely by longitudinal support Skids/Bunks
Central Skids/Bunks are highly recommended
Skids/Bunks must support at least 70% of the hull length
Skids/Bunks must support past the stern by at least 50mm
Skids/Bunks must have contact surface being plastic or carpet
Trailer must have entry roller
Trailer must have bow roller or correctly fitting snub block to lock in the bow.
An outboard support bracket is highly recommended to prevent transom flex when trailering

Approved trailer agents in New Zealand:
– DMW Trailers
You do not have a mac dealership near me, what should I do?
Don't panic – we can ship to almost anywhere in the world. Call us on +64 9 273 5666 or email us at: info@macboats.co.nz to arrange the best possible solution and find out any areas Mac Boats will be expanding into soon, it could be your area! We look forward to hearing from you!
How can I get my boat repaired?
If you are based in New Zealand, we can arrange to have your boat sent to our factory in East Tamaki – Auckland. Our Mac Boat experts can assess, repair and give advice on all your Mac boat's needs.
Freephone (within NZ): 0800 62 22 62
Australia: +61 1800 841 605
If you are outside of New Zealand, you can call us on +64 9 273 5666 to discuss further options.
How do I clean my Mac Boat?
Normal everyday washing only requires fresh water and you may wish to use a form of marine wash. If your MAC is really grubby you can use Simple Green or CT18 which is available at most Marine stores and wash down with a high-pressure hose. NOTE: Do not try and polish your boat with car polish or any type of buffing compound, this will have the reverse effect on your boat. Once the boat has been washed thoroughly you can buff the boat with a lambswool buffing pad (no liquids).
How do I anti-foul my MAC?
Step 1: Sand the hull with a medium to course grade sandpaper (80g)
Step 2: Clean surface with high pressure cleaner
Step 3: Apply Buff Primer as per instructions (Altex Coatings)
Step 4: Apply Ultra Build 520 as per instructions (Altex Coatings)
What warranty does Mac Boats have?
All of our Mac Boats range have a warranty of 5 years.
Have a Different Question?
Send us a message
Or call  (09) 273 5666
"Bought a MAC 420 with a 30 Yamaha tiller steer. Put a pedestal and seat at the back, another opposite side midships. Had a custom bow-rail made for it, what a fishing machine it is. Very balanced and planned very well. Awesome boat!"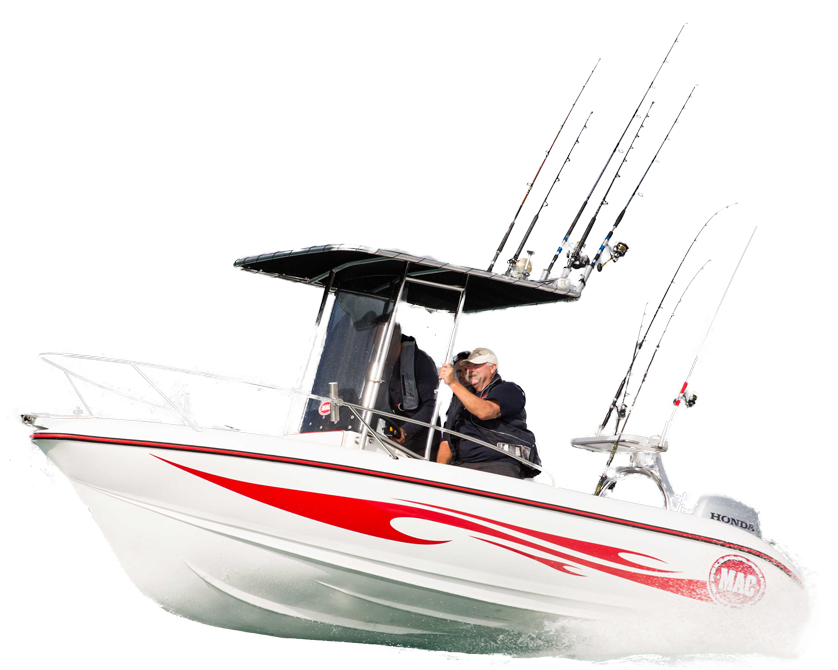 Copyright ©
Galloway International Ltd 2020
Mac Boats ®